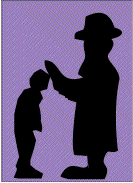 President's Message
It's difficult to imagine as we are in the height of summer that it is already time to think about gearing up for a new Jewish calendar year. Before you know it, Rosh Hashanah will be here and we are busying ourselves with preparations. Annually before the holidays, we have started a tradition of welcoming the Rabbi back after his summer hiatus and getting back into our regular schedule of worship services. This year we will have our Shabbat dinner for that purpose on August 24, 2001. I hope to see many of you there. Details about the dinner are in our newsletter.
The summer has been a profitable one for us. Thanks to Lynda and her crew of workers, our annual garage sale was once again a big financial success. The hours of work that go into that event are staggering, and it's unbelievable that a group of our size can come up with that much stuff year after year!! Lynda is amazing in her energy and expertise and we are so thankful that she puts all of that to use for us.
We will be sprucing up the Temple over the summer with a fresh coat of paint. Thanks to Barry and Dominick for their efforts on that project.
I have spoken many times on the "growing pains" that we as an organization have suffered along the way. As we expand, counting on only volunteers to get all of the work done for our congregation, there are bound to be some problems which we are continually attempting to remedy. We have initiated a new way of taking in mail and accounting for payments/donations as of July 1. We hope this will eliminate the problems we have had with late deposited checks and donations that may not have been acknowledged. If you still have any outstanding checks or have made a donation that has not been acknowledged, please contact Lynda. We have continued to grow over the summer and I'd like to welcome our new members into our family. I feel blessed to be the President of such a wonderful group and I am excited about our upcoming year. We have set many programs for our calendar and I look forward to seeing you at all of them.
Enjoy the remainder of the summer.